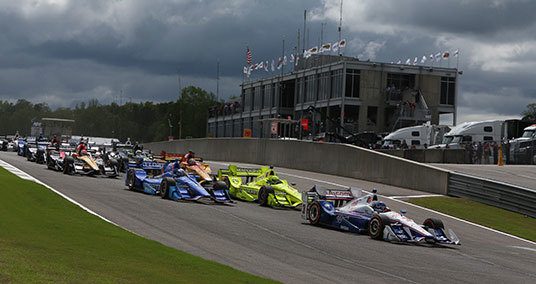 04 Jan

Barber is my Indy – Volunteer Experience
Every year I listen for the sound. No matter where I am on that first day of volunteering, I wait for it.
It's the sound of the first car firing up before the chill has lifted and the morning mist has burned off.  My first day of volunteering at Barber Motorsports Park for the Honda Indy Grand Prix of Alabama is always on a Friday.  It has been for the last eight years, and that sound, that far away barking to life marks the start to an amazing weekend.
The morning begins with check-in and breakfast at Volunteer Headquarters, or VHQ as we refer to it.  After a cup of coffee and some milling around, I'm always outside to smell the morning air and await being dispatched to my post for the day.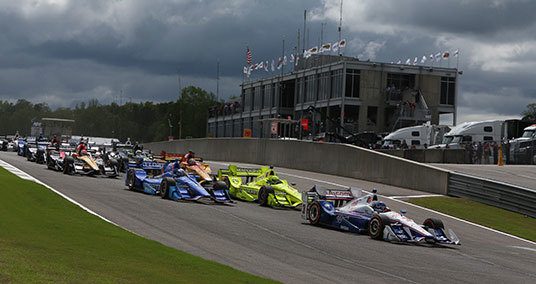 If you're interested in volunteering, it's not hard to find a committee suited to your interests and talents.  There are shuttle drivers, paddock and hillside marshals, credentials checkers, VHQ workers and several others that, even without experience, you can be taught quickly and begin to work right away.
In previous years, I have checked credentials in a parking lot just away from the visible action, but the buzzing of the cars around the track and the drone of the announcers over the PA system remind me that I am at Indy.  It's not the 500, but it's "my Indy", and I don't think I'd feel the same way about it if I were just a ticket holder.  Somehow, doing my small part to ensure that others here in Alabama enjoy their Indy experience makes me feel closer to the action. I am but a small part in the engine that is the Honda Indy Grand Prix of Alabama, but the volunteer organizers never fail to express how grateful they are for every single person's hard work over the weekend.
As the day wears on, it's easy not to notice the lone engine in the paddock somewhere has now become a hive.  Fans begin to show up and before long, thousands of people are making Barber home for a time.  Many camp out on site while others set up more temporary arrangements on the banks of green surrounding the 17 turn track.
Alabama is Talladega country.  Just 40 miles west, is its own sight to behold, but every spring around here, Indy takes center stage and shows Southerners a different side to racing.  Many that come are surprised at the sheer beauty of the facility.  Barber Motorsports Park is as manicured as any country club, but is singularly designed to support world class racing events.  Barber was designed as a drivers track, but it's also a haven for spectators too.  This too, makes the volunteer experience enjoyable as well.  We're not just "doing our duty", we're treated to behind the scenes access AND get to enjoy a great weekend at the races.
Typically, I tend not to run in very big social circles, but this is an exception.  These are my people.  Year after year seeing the same friendly faces all brought together by the love of the sport, and a commitment to each other, the track, and serving the fans is a reminder of why this is an event I schedule everything else around.
The great team at Zoom Motorsports outdo themselves every year making the volunteer experience even more rewarding, and I hope you'll join us.  We'll show you the ropes.  This year's event is April 20-22. If you're interested, please check out Barber to volunteer. See you soon!
[kswr_button btn_link="url:http%3A%2F%2Findycarnation.indycar.com%2Fmember-news%2F2018%2F02%2F14%2Fbarber-is-my-indy-||target:%20_blank|" btn_style="qaswara" btn_hover_action="scaleup" btn_txt="FULL ARTICLE" btn_default_style="1″ btn_full_width="false"]